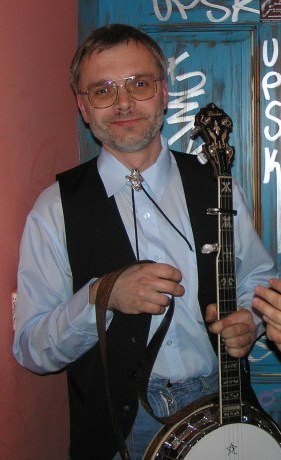 Year of birth:
1959
Member since:
1981
Residence:
Kutná Hora
Occupation:
Car engineer
Marital status:
divorced and engaged
Children:
Tomáš (*1990), Lukáš (*2004)
Hobbies:
music and discovering anything new
Favourite food:
anything you can gobble up
Favourite drinks:
beer, Peppermint liquer, Jim Beam, juicetonic mix, scottish and irish whiskey
Favourite bands:
Quicksilver, Union Station and almost anything (from various music styles)
Favourite music idols:
originaly only Earl Scruggs (cause he didn't know any other), currently he likes bits from banjo technique of every u.s. picker
Instrument:
Jiří Lebeda, model Homemade (he's picking on his hand made banjo)
Strings:
ELIXIR Light 009-020
E-mail:
lebedabrtnik@seznam.cz
Music history:
He started to play the accordion at the age of 8 and also learned the music theory for 4 years. When he played the guitar for the first time, at the age of 11, he decided to learn it by him self to be not influenced by classical style. Later on, when he was more than 16, he was amazed by the sound of 5-string banjo. At that time there was not able to get the teacher or studying materials in the former Czechoslovakia. So he was working with the imported books copied on xerox machines. Very soon, he is joining the jamming musicians at the pubs or camps. He is the member of the band called Trampoty since 1979 till these days although it makes some problems with coordination Trampoty and Brzdari rehearsal and concert schedule. He is also operating with his brother Zdenek in the country section of Brzdari and the Johnny Cash Revival band.