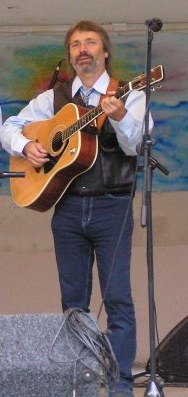 Year of birth:
1953
Member since:
1972
Residence:
Kutná Hora
Occupation:
selling and consulting water flow meters
Marital status:
married
Children:
Martina (*1984), Petr (*1985)
Hobbies:
cycling, skiing, sitting in pubs and when he has some time left, he plays the guitar or fiddle a bit
Favourite food:
anything unhealthy, fried, grilled, oversalted
Favourite drinks:
the common czech beer Gambrinus and similar specimen
Favourite bands:
Quicksilver, Seldom Scene
Favourite guitar players:
Lester Flatt, Charlie Waller
Instrument:
František Furch (2008)
Strings:
any kind of wire he gets as a gift or finds anywhere (he doesn't mind using Elixir strings either)
E-mail:
lebeda@kapka-vodomery.cz
Music history:
he is the one and only original and founding member, guitar player and leader of Brzdari. In 2002 he also started the Johnny Cash Revival band. He also runs country section of Brzdari (with his brother Jirka and Pepa Voda) which often financialy supports our bluegrass section. And we have to admit that we are thankful for that.